The weekly Sentinel Induction Ceremony tradition occurs every saturday evening.
It is one of the most important events of the week that all Sentinels must know about and try to attend if possible.
It is held in the Darnassus Watch Tower, at the every entrance of the Darnassus city gates from Teldrassil unless the cadre is stationed eleswhere on a trek. Then, it will be held at the current location and uniform is not obligatory.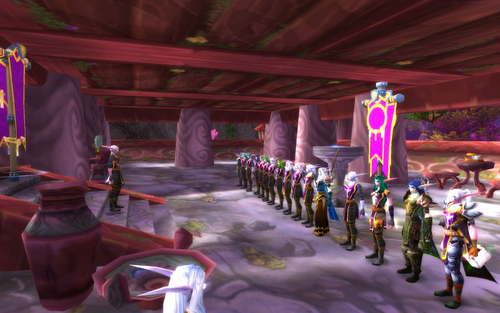 How do you look your best at the ceremony?
What should you do and what should you wear?
Heres a small guide.
-----
Newest Recruits:
Are you new to the guild and haven't been inducted yet?
As in, you've joined the guild but you haven't received your recruit feathers yet or your uniform form an officer?
No tabard.
No uniform.
Just your normal IC armor.
Everything will be given to you once you are officially inducted.
(Follow what everyone else is doing and get in line with the rest of the guild and wait for the Commander to call you up!)
*
Inducted Members:
Inducted Recruits, Outrunners, Sentinels, Keepers, Huntresses, Guardians and the Commander all come in this uniform...
This uniform consists of...
-
Knitted Tunic
(Chest)
-
Haliscan Pantaloons[
(Legs)
-
Knitted Gloves
(Hands)
-
Thin Cloth Belt
(Waist)
-
Simple Linen Boots
(Feet)
-
Jambiya
(One-Handed Weapons/ Dagger) ....If your class cannot use a dagger you will be given a
Scimitar
-
A guild tabard
This uniform can be found in the Guild Bank's "Uniform" section if you lose it.
I recommend making your uniform into a "Set" in "Equipment Manager" for the fastest and easiest way to get ready!
For those of you who don't know how to get into equipment management it's over here...

And then just click on "New Set" when you have your uniform on.
*
Tabards:
Depending on your rank, you will be wearing one of the guild tabards.
From
Recruits to Outrunners, Sentinels, and Keepers
the normal tabard given to you is to be worn.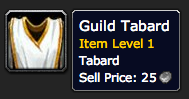 As such...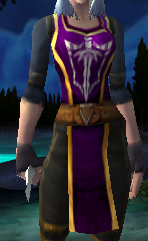 The junior officers (
Lieutenant
) wear the higher form of the guild tabard.
As such...
And the senior officers (
Huntress and Guardian
) as well as the
Commander
wear the highest form of the guild tabard.
As such...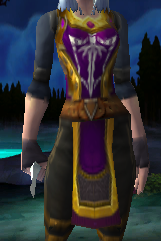 *
Huntresses and Guardians stand at the Commander's side. All other ranks will be standing in an orderly file in front of the Commander. Make sure the line is straight and impressive!